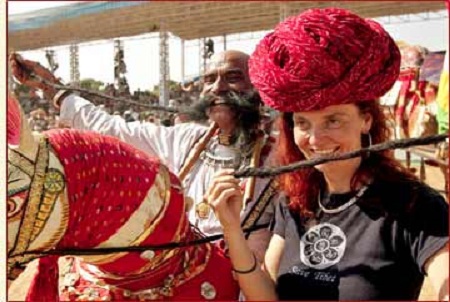 Best Jaipur City Guide – Itinerary & Reasonable Price Best Language Guide in Jaipur By Maharaja Cab
To get the best out your Jaipur trip, you just not need to visit all the fantastic tourist attractions of Jaipur. you need to know the history behind them too. So to do that, you need a professional local Jaipur tourist guide. So if you are looking for a Jaipur city guide or Jaipur shopping guide, we will arrange one. Maharaja Cabs is a 2016 started tour & taxi firm we have some of the best tour guides who have been assisting travelers from all over the globe in understanding Jaipur. The cost of a tour guide & Tourist Guide for Local Jaipur Sightseeing for one day is just INR 500 to 1500/- which will stay with you for 8 hours. Plus if you are solo or group women traveler then we can also offer female tour guide for Jaipur sightseeing.
It is important to make the most out of your limited stay at Jaipur. Therefore, to see everything in sufficient duration with lots of time to spare for shopping, try to start each day as early as possible. Most of the places open at 8 a.m. Hence, wake up and have a filling breakfast for the jam-packed days.
Day 1: Since you have newly arrived in Jaipur, the first day should encapsulate sightseeing all the famous places that are in close proximity to each other so that you don't burn out on the very first day itself. Start your trip with architectural and royal wonders as you see the famous forts of Jaipur. Visit Amer Fort (with the exquisite Sheesh Mahal), Jaigarh Fort and Nahargarh Fort. If you still have time to travel for two hours and see the supposedly haunted Bhangarh Fort, then, by all means, do it, else spend a serene evening near the beautiful Jal Mahal, after having a sumptuous meal at 1135 A.D. Restaurant located inside Amer Fort.
Day 2: Start your day with having delectable kachoris and flavoured milk from Rawat Mishthan Bhandar at Sindhi Camp. Then head out to see the City Palace, and visit Hawa Mahal and Jantar Mantar, just moments away from it. By noon, you shall be done with these three hot spots and can venture out to fulfill your shopping quotient from Bapu Bazaar and Johari Bazaar for jewellery, rare antiquities, and genuine silk/pashmina clothing, and then have a filling lunch at the famous Laxmi Mishthan Bhandar. If you need a breather from the historical ride, then head to the Museum of Gems and Jewellery, Albert Hall Museum or the Jaipur Zoo.
Day 3: Strolling leisurely through Sisodia Rani ka Bagh is a great beginning to your last day in Jaipur. Visit the Birla Temple, also known as Lakshmi Narayan Mandir, famous for its grand architecture. Then head over to spend your lovely evening at Chokhi Dhaani, one of the many cultural villages in Jaipur. Visiting Chokhi Dhaani will take up to 3-4 hours, but with its cultural festivities and scrumptious thalis, it is definitely worth going for.
Night Tours Package In jaipur - Nightlife In Jaipur
As stately, sophisticated and regal Jaipur looks at day, it takes up a whole new avatar at night! The nightlife of Jaipur may not be like Goa?s, but it is nonetheless adventurous and fun. If drinking and lounging with friends accompanied by great food and music are your sense of nirvana, then bars and pubs such as Aza, The Grunge Lounge Bar, Bar Palladio, are your stairways to heaven. If you need to blow off some steam by dancing your heart out on the dancing floor, then Jaipur nightlife has got you covered. Blackout, The Dragon Club (T.D.C), The Extreme Discotheque are perfect places to let your wild side show, costing you an approximate average of INR 1500 for two, an affordable price for the amazing vibe they have got to offer!
Note More Information Contact Us Our Manager - 09571713456 - 07976135260