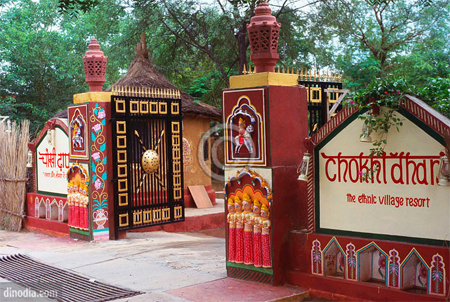 Chokhi Dhani entry fees & pick & drop taxi Service from Maharaja Cab
Taxi Service For Jaipur To Chokhi Dhani Only INR -900/- Sedan Taxi And Innova Toyota INR- 1400/- Tempo Traveller For Chokhi Dhani -2500/- Bus For Chokhi Dhani -3500- 4500-5500 Round Trip Here Our Driver will Pick Up 6:30 Pm To 7:00 PM From Your Stay Places Driver Towards Chokhi Dhani And Wiil Drop Your At Hotel and your Places at 10:30pm To 11:00 Pm
Planning to visit Chokhi Dhani at Jaipur? If yes then it's an excellent choice. Entry fees for Chokhi Dhani in 2018 is INR 700 which you can buy easily at Chokhi Dhani and we at Maharaja cab are offering two-way taxi service for Chokhi Dhani at just INR 950 per cab (Sedan car).
About Chokhi Dhani :--
The Chokhi Dhani cluster is substitutable with Rajasthani village-themed cordial reception since 1990. Since Decemberof 1994, the 5-Star Chokhi Dhani Resort in Jaipur has been serving international and native travellers. below the steeringof Chairman, Mr. Gul Vaswani and manager, Mr. Subhash Vaswani, Chokhi Dhani cluster has emerged as AN distinctivecordial reception chain with it's commitment to produce guests with the distinctive expertise of Rajasthani culture.
Time Required: 2 - 3 hours.
Cost: Entry Fee: Adults - INR 450. Kids - INR 350. The village thali food is priced at INR 700 per head. The resort buffet food is priced at INR 1100 per head. ...
Open Time: 5 PM to 11 PM.
Taxi For Chokhi Dhani Tour Sedan cars like Dzire and Etios = Round trip for Rs 950/- all inclusive

Taxi For Chokhi Dhani SUV cars like Toyota Innova = Round trip for Rs 1400 /-all inclusive
Why should you book our service ?
Correct time to reach Chokhi Dhani is by 6:30 PM and most taxi (App or tourist) charge night charge.
So you end up paying like 300-400 one way plus extra night charge. But thats not with us.

Maharaja Cab Offer both pick & drop + ticket of Chokhi Dhani for INR 700 per cab.
Our driver will pick you from your hotel or any suggested point in Jaipur city and will drop at the place of your choice. All our drivers are from Jaipur & have the commercial license.